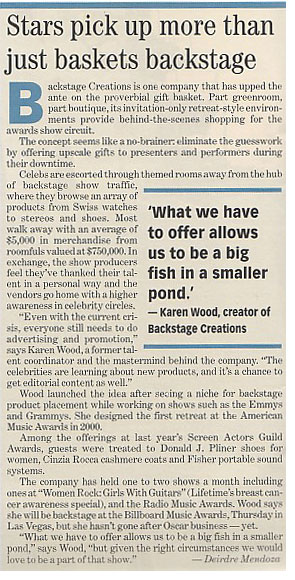 Stars pick up more than just gift baskets backstage
Backstage Creations is one company that has upped the ante on gift baskets. Part greenroom, part boutique, its invitation-only retreat-style environments provide behind-the-scenes shopping for the awards show circuit.
Celebs are escorted through themed rooms away from the hub of backstage show traffic, where they browse an array of products from Swiss watches to stereos and shoes. Most walk away with an average of $5,000 in merchandise from roomfuls valued at $750,000. In exchange, the show producers feel they've thanked their talent in a personal way and the vendors go home with a higher awareness in celebrity circles.
"Even with the current crisis, everyone still needs to do advertising and promotion," says Karen Wood, a former talent coordinator and the mastermind behind the company. "The celebrities are learning about new products, and it's a chance to get editorial content as well."
Wood launched the idea after seeing a niche for backstage product placement while working on shows such as the Emmy's and Grammy's. She designed the first retreat at the American Music Awards in 2000.
Among the offerings at last year's Screen Actors Guild Awards, guests were treated to Donald J. Pliner shoes for women, Cinzia Rocca cashmere coats and Fisher portable sound systems.
The company has held one to two shows a month including ones at "Women Rock: Girls With Guitars" (Lifetime's breast cancer awareness special), and the Radio Music Awards. Wood says she will be backstage at the Billboard Music Awards, Thursday in Las Vegas, but she hasn't gone after Oscar business — yet.
"What we have to offer allows us to be a big fish in a smaller pond," says Wood, "but given the right circumstances we would love to be a part of that show."
Story by Dierdre Mendoza