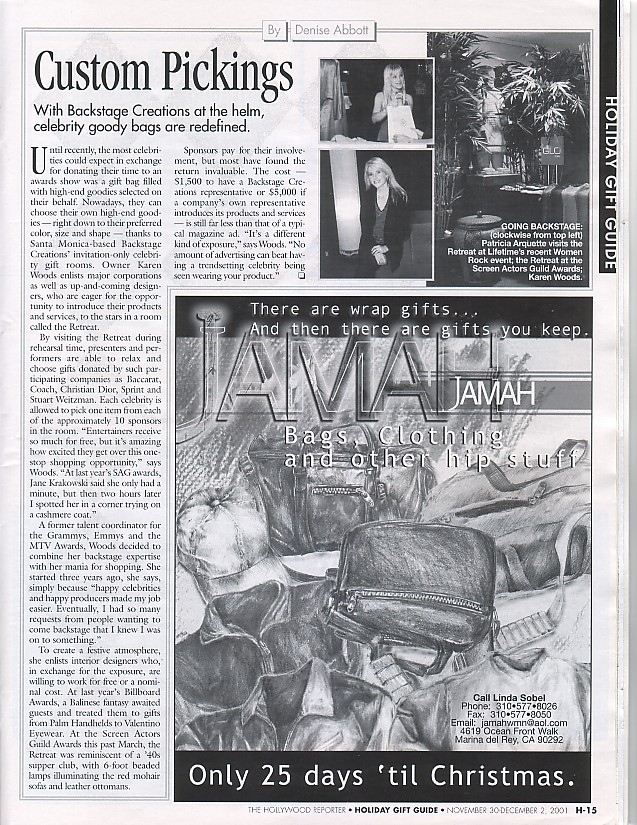 Custom Pickings — With Backstage Creations at the helm, celebrity goody bags are redefined.
Until recently, the most celebrities could expect in exchange for donating their time to an awards show was a gift bag filled with high-end goodies selected on their behalf. Nowadays, they can choose their own high-end goodies — right down to their preferred color, size and shape — thanks to Santa Monica-based Backstage Creations' invitation-only celebrity gift rooms. Owner Karen Woods enlists major corporations as well as up-and-coming designers, who are eager for the opportunity to introduce their products and services, to the stars in a room called the Retreat.
By visiting the Retreat during rehearsal time, presenters and performers are able to relax and choose gifts donated by such participating companies as Baccarat, Coach, Christian Dior, Sprint and Stuart Weitzman. Each celebrity is allowed to pick one item from each of the approximately 10 sponsors in the room. "Entertainers receive so much for free, but it's amazing how excited they get over this 0ne-stop shopping opportunity," says Woods, "At last year's SAG awards, Jane Krakawoski said she only had a minute, but then two hours later I spotted her in a corner trying on a cashmere coat."
A former talent coordinator for the Grammys, Emmy, and the MTV Awards, Woods decide to combine her backstage experience with her mania for shopping. She started three years ago, she says, simply because "happy celebrities and happy producers made my job easier. Eventually, I had so many requests from people wanting to come backstage that I knew I was on to something."
To create a festive atmosphere, she enlists interior designers who, in exchange for the exposure, are willing to work for free or a nominal cost. At last year's Billboard Awards, a Balinese fantasy awaited guests and treated them to gifts from Palm Handhelds to Valentino Eyewear. At the Screen Actors Guild Awards this past March, the Retreat was reminiscent of a '40s supper club, with 6-foot beaded lamps illuminating the red mohair sofas and leather ottomans.
Sponsors pay for their involvement, but most have found the return invaluable. The cost — $1,500 to have a Backstage Creations representative or $5,000 if a company's own representative introduces its products and services — is still far less than that of a typical magazine ad. "It's a different kind of exposure," says Woods. "No amount of advertising can beat having a trendsetting celebrity being seen wearing your product."